Wednesday, January 19, 2022
Secretary Watson Announces 29 by 29 Strategic Plan for Tackle the Tape Initiative
JACKSON – Secretary of State Michael Watson partners with local and national leaders to continue his mission of making Mississippi one of the most job-friendly states in the country. The Secretary debuted his office's comprehensive plan to review the state's hundreds of thousands of occupational licensing regulations during a press conference in the Capitol Wednesday. The plan, titled 29 by 29, serves as a roadmap within the Secretary's Tackle the Tape initiative and aims to review every regulation for all 29 occupational licensing boards and commissions by the year 2029. 

"The 29 by 29 strategic plan allows us to be more efficient and effective in how we reduce burdensome red tape across various industries," said Secretary Watson. "By taking an in-depth look at three to four occupational licensing boards a year, we'll have a clear understanding of which harmful and unnecessary regulations we need to cut. Our collaborative efforts will undoubtedly lead to more economic opportunities for all Mississippians."

Click here to read the full 29 by 29 strategic plan.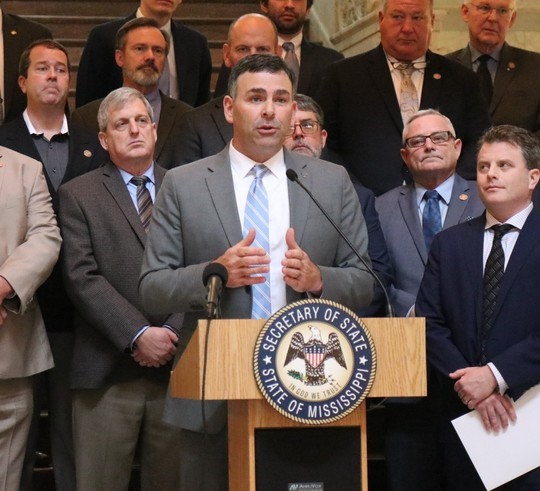 The joint evaluation assesses regulations using metrics like fines, fee structure, and penalties. Partners assisting Secretary Watson in the review process include:
Mercatus Center (George Mason University)
Empower Mississippi
Americans for Prosperity Mississippi (AFP)  
Mississippi Center for Public Policy (MCPP)
The Heritage Foundation
American Legislative Exchange Council (ALEC)
John C. Stennis Institute of Government (Mississippi State University)
Foundation for Government Accountability (FGA)
While these partnerships are beneficial to the overall mission of the Tackle the Tape initiative, input from the business community is still essential. Mississippians can report outdated or burdensome regulations dealing with any of the 29 occupational licensing boards on our Tackle the Tape website at any time. The website also highlights legislation and partnerships that aid in the ongoing fight to "rid the red" in Mississippi.

Click here to track our progress or report a regulation.