Tuesday, September 20, 2022
Secretary Watson Celebrates National Voter Registration Day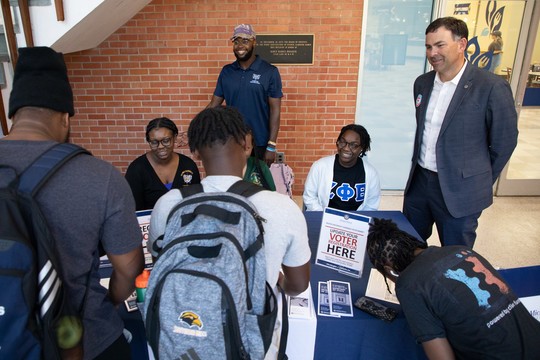 JACKSON – Secretary of State Michael Watson celebrated National Voter Registration Day by hosting voter registration drives at Mississippi schools across the state.  

"National Voter Registration Day is a special day for our state because we get to see Mississippians with many different political views come together in support of one cause, educating and registering people on their right to vote. It's especially exciting to see our youngest generation lead the way in these efforts," said Secretary Watson.

Secretary Watson made visits to Mississippi State University (MSU) and the Mississippi University for Women (MUW) to connect with the organizations facilitating the registration drives, recruit new voters, and thank student leaders for their efforts.

SOS Student Ambassador Steven Berry assisted Secretary Watson with voter registration drives at various schools in Simpson County including Mendenhall High School, Magee High School, and Simpson County Technical Center where nearly 100 new voters were registered today.

Since kicking off National Voter Registration Month on September 1, 2022, the Secretary of State's Office has registered 2,166 new voters through outreach and education including the Voter Registration Road Trip.

In order to vote in the upcoming November general and special election, Mississippians must be registered to vote by October 10, 2022.

For voter registration or elections questions, contact ElectionsAnswers@sos.ms.gov, call the Elections Hotline at 1-800-829-6786, or visit YallVote.ms. For information regarding the Voter Registration Road Trip, contact Press@sos.ms.gov.