Thursday, March 30, 2023
Secretary Watson Hosts 2022 Promote the Vote Awards Ceremony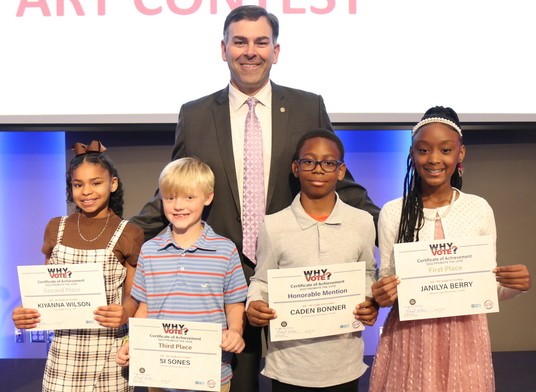 JACKSON, Miss — Secretary of State Michael Watson honored K-12 students and teachers during a special awards ceremony at the Two Mississippi Museums on Thursday. The event marked the conclusion of the 2022 Promote the Vote (PTV) program, a longstanding voter education effort consisting of mock elections, contests, and elections curriculum. The 2022 "Why Vote?" theme encouraged students to consider the importance of voting and how it corresponds to their beliefs and values.

"It is an incredible honor to recognize the work of our young Mississippians during the PTV Awards Ceremony. We are thrilled to have them participate in the program, but more importantly, we are proud they are engaged in learning about the elections process," said Secretary Michael Watson. "Thank you to all the teachers, parents, principals, and other administrators who contribute to the success of the program and help instill civic responsibility among our students."

This year's ceremony honored 34 student winners and their teachers from across the state. More than 19,000 students participated in the 2022 PTV program and more than 1.5 million students have participated since the program's inception. 

"Our students are on the verge of adulthood which makes it extremely important to begin teaching civic responsibility and engagement. This, along with the strategically crafted curriculum the Secretary of State's Office distributes each year, provides the perfect opportunity to match state education standards with the importance of elections," said Sondra Hinton, DeSoto Central Middle School educator.

Our office also continued our partnership with Mississippi Public Broadcasting's (MPB) Education Department to encourage school, teacher, and student participation. In addition to the art, essay, and video production contests, MPB organized a social media contest to boost participation and spark friendly competition across the state.

 
Click here to view a list of contests winners.
Click here to watch the PTV Awards Ceremony.

 
PTV is open to all teachers and students in grades K-12. We encourage participation by public, private, and parochial schools as well as home school associations. Details regarding registration for the 2023 program will be announced on our website at a later date.